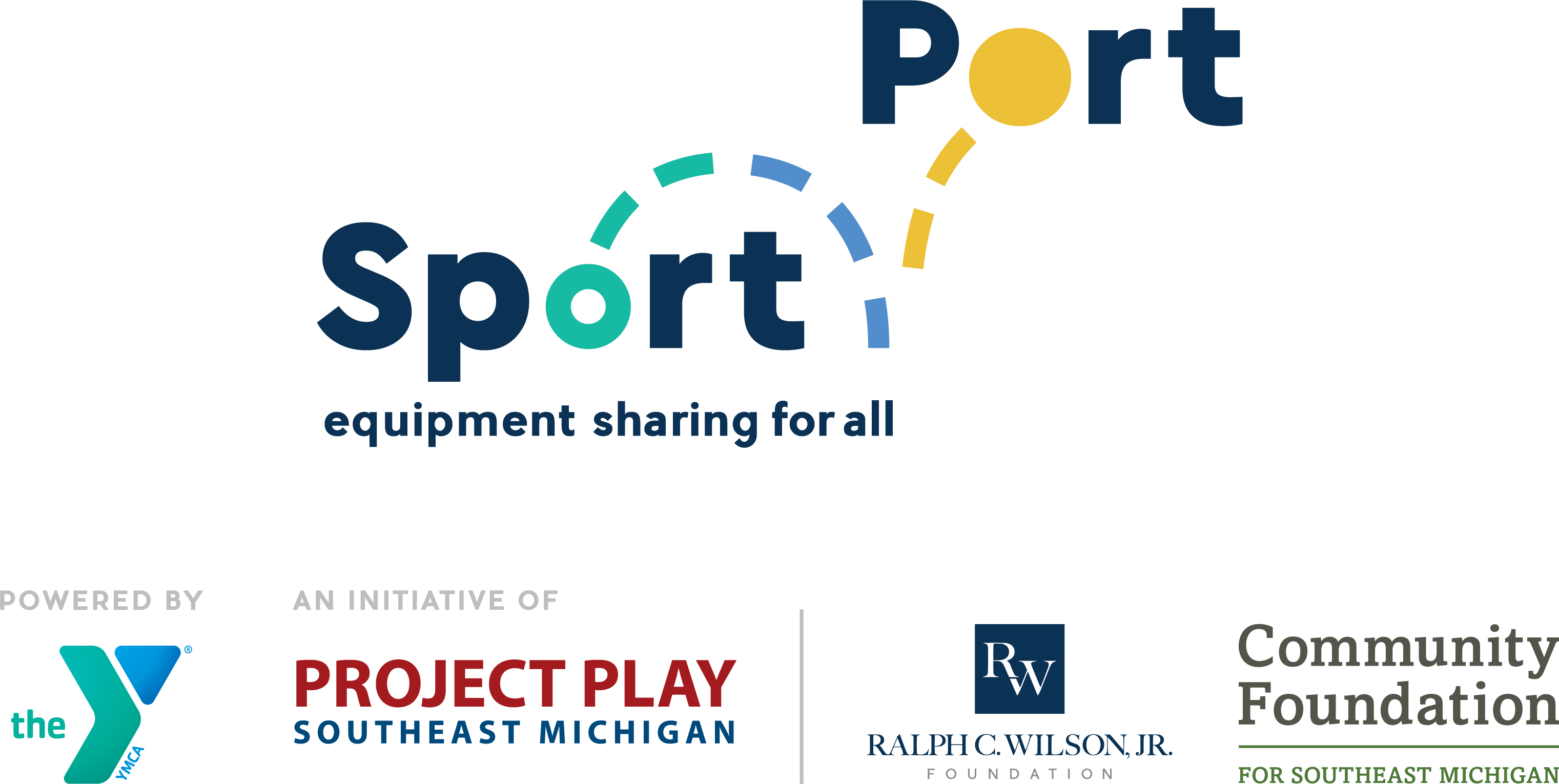 ENCOURAGING KIDS TO PLAY AT LEAST ONE HOUR PER DAY
New Program Supported by Ralph C. Wilson, Jr. Foundation, Community Foundation for Southeast Michigan and YMCA Creates Sports Sampling Program in Port Huron
Research has shown that active children go on to live happier, healthier and more successful lives.  Project Play: Southeast Michigan, an initiative driven and funded by the Ralph C. Wilson, Jr. Foundation's Youth Sports & Recreation focus area in partnership with the Community Foundation for Southeast Michigan, and the YMCA of the Blue Water Area, is designed to do just that – give children more opportunities to play.
Project Play: Southeast Michigan is supporting the establishment and operation of a pilot program called "SportPort," a sports equipment sharing program in southeast Michigan. Through both stationary and mobile partners throughout the region, SportPort will provide access to equipment for sports, such as baseball, basketball, tennis, hockey and more.
Barely half of all children are participating in sports even once a year. The era of the sandlot or unstructured play, of kids making up games and playing with friends in the neighborhood, is largely gone. Our goal as a collaborative is to help bring that kind of neighborhood fun and interaction back because every child – regardless of location, income or ability – should have access to fun and fulfilling activities.
Blue Water Area kids will be able to borrow sports equipment from McMorran Place Pro Shop and Marysville Recreation Department. Sport pop-up clinics will take place at various locations in Port Huron and Marysville.
Local partners in this effort are St. Clair County Library, Port Huron Recreation Department, Marysville Recreation Department, Port Huron Schools and Marysville Schools. 
BRINGING THE FUN TO YOU!
SportPort Equipment Sharing Program
The Sport Port Program provides sport sampling and access to equipment to local parks and community centers in Southeast Michigan.
EQUIPMENT LENDING SITES
Kids in Port Huron and Marysville can borrow sports equipment just like checking out a book through the sites below:
PORT HURON:
McMorran Place Pro Shop
701 McMorran Blvd
Phone: (810) 966-6166
Hours of Operation for this lending site:
Monday through Friday  2:00 - 6:00 PM
Saturday and Sunday 9:00 AM - 5:00 PM
MARYSVILLE
Marysville Community Center
867 E. Huron Blvd
Phone: (810) 455-1302
Hours of Operation for this lending site:
Monday through Friday  8:00 AM - 4:30 PM
POP-UP SITES
Trained and caring Y staff will be present at the times and locations below to encourage safe and free play. Sports include basketball, flag football disc golf and many more!
PORT HURON 
In conjunction with afterschool programs
MARYSVILLE - Through February 28th
Morton Park (560 Busha Hwy.) - Fridays from 4:30 - 5:30 PM