Welcome to the YMCA!
To get in after hours, you will need to set up your 24 hour access with a Welcome Center team member. This can be done in person or over the phone during the building's staffed hours. Once you have your access set up, you can scan your plastic barcode card or the barcode stored in our mobile app if you have that set up.
Note: The only types of barcodes that will work to access the exterior door are Core 128 type or "Normal" barcodes that look like the following: 

Apple Pay, Google Wallet, and other similar programs use a different type of barcode that does not work. If your barcode looks like the following then you will be unable to scan to open the door:

If you only have a card in Apple Pay/Google Wallet, you can still get access by downloading our mobile app. Here are the steps to set up a membership card in our mobile app:
1. Download our mobile app by clicking here on your mobile device! It is called Daxko.
2. Search for our facility (YMCA of the Blue Water Area) by searching for the words Blue Water when prompted.
3. Review or skip the app's tutorial.
4. At the bottom, click the "Cards" section.
5. In the top right, click "Add New Card".
6. Enter your name in the top field.
7. Enter your barcode number. If you have your card stored in Apple Pay/Google Wallet you can find the number by pulling up the card and copying the number under the barcode exactly as it appears. Here is an example in Apple Pay: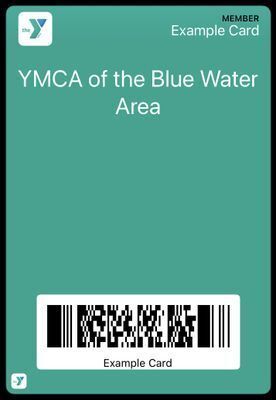 Note: Your barcode number will be located where the words "Example Card" are, under the barcode.
8. Click "Save" to save your card.
9. You can now enter by scanning your barcode in the app. Enjoy your workout! :)
If you run into any problems with this, we would be happy to help at the Welcome Center whenever our building is open. Please stop in or give us a call at (810) 987-6400 to set up or manage your access.